Sports and outdoor
Barcelona's long-standing sporting tradition and exceptional geographical location make it an attractive destination for lovers of sport and a healthy lifestyle.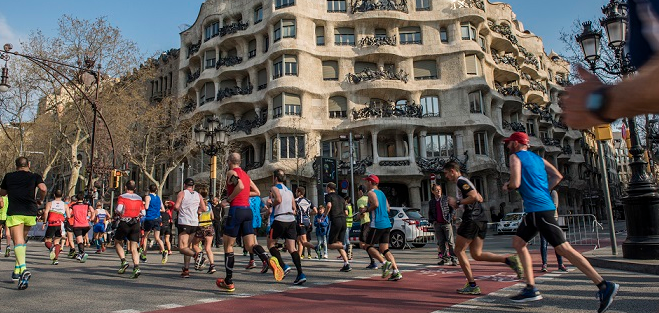 Barcelona's sporting tradition dates back more than a hundred years. The city is renowned as the host of major sporting events that attract sports fans from all over the world, either as spectators or participants in amateur competitions. It is also the perfect destination for visitors who want to do some sport.
Stretching for nearly 100 kilometres, the Barcelona coast offers a great choice of beaches and marinas. Together with the pleasant Mediterranean climate, they provide visitors with countless opportunities to enjoy water sports, from sailing and scuba diving to fishing.
If you prefer to head inland, the mountains and outdoor activities, natural areas and the Pyrenees are the perfect complement to a visit to the city. Hiking, skiing, ballooning, parachuting, rafting and canyoning are just some of the activities you can enjoy on a short getaway from Barcelona.
At Turisme de Barcelona our large team of professionals is on hand to provide people from the sports and active tourism industry with all the information and advice they need. We also organise inspection trips to Barcelona and the surrounding area so they can find out about what's on offer and develop new visitor programmes that include a visit to the city as well as active tourism activities.